Aquatic Plants
Full plant list available for custom/large plant orders. Plant varieties vary on season and availability.
CALL FOR CURRENT AVAILABILITY
Rare Finds & Custom Orders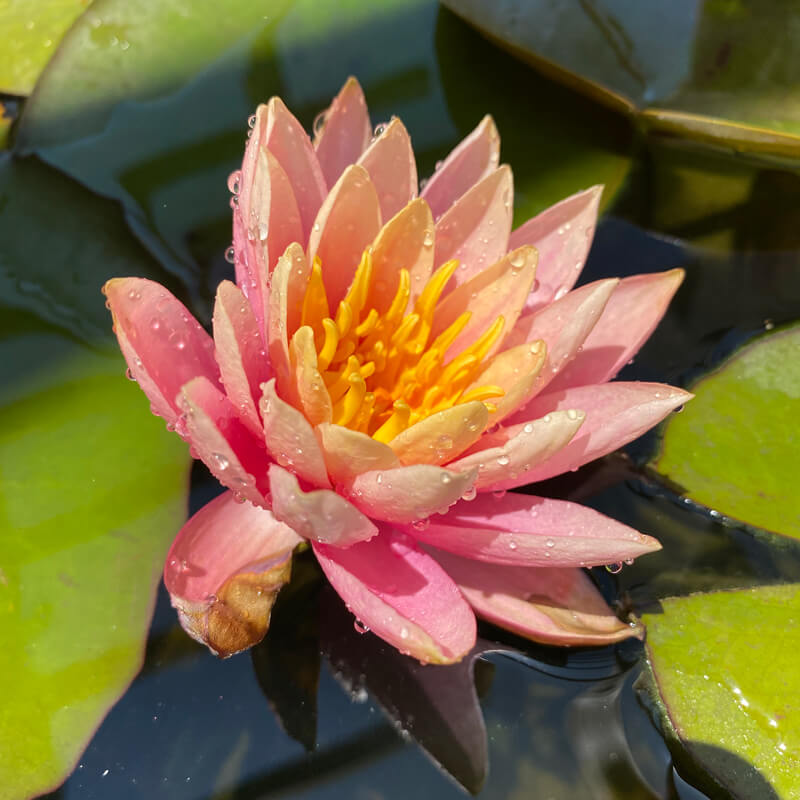 Hardy Lilies
Part/Full Sun | Spring-Fall Blooms
2.5 Gallon Pot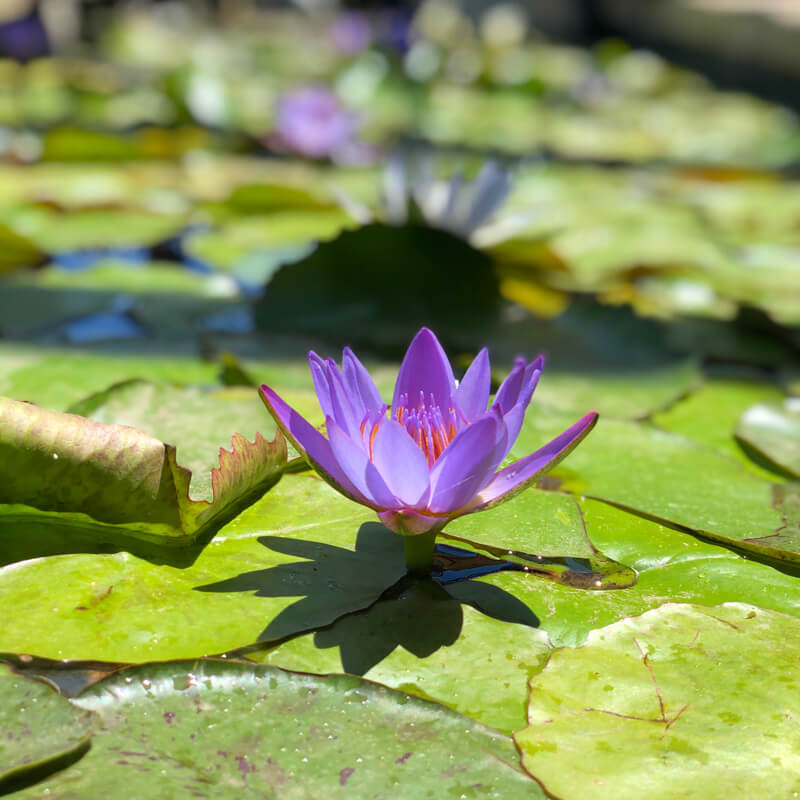 Tropical Lilies
Full Sun | Spring-Fall Blooms
2.5 Gallon Pot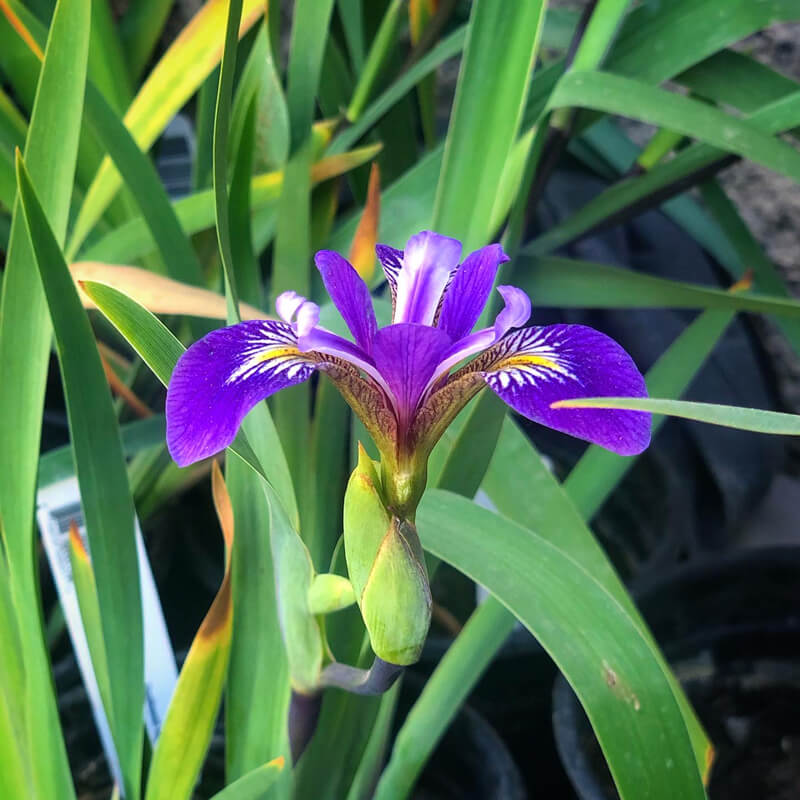 Marginal Plants
PLANT LIST BELOW
1 Gallon Pot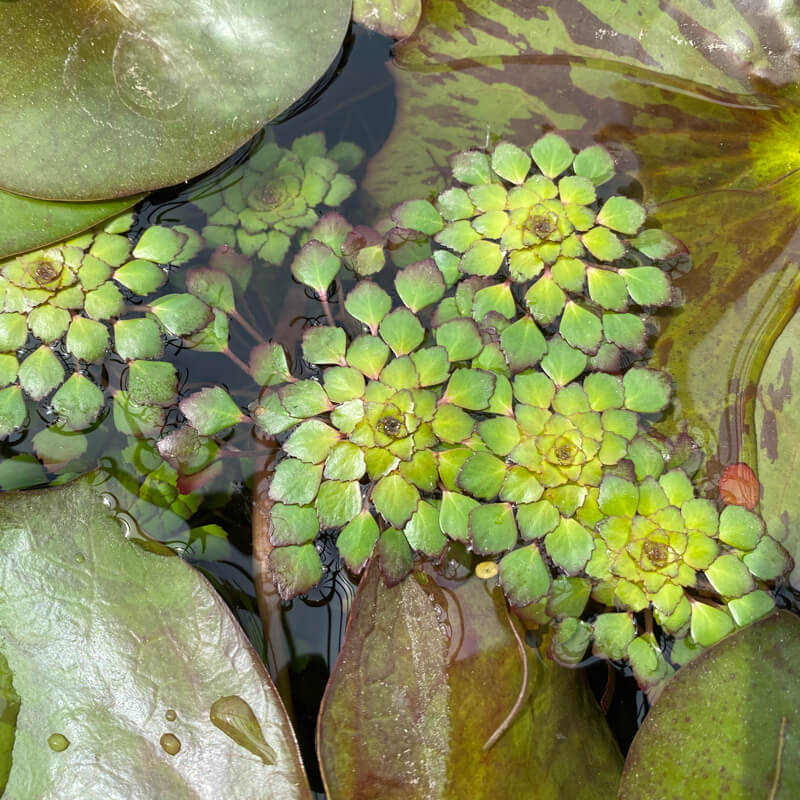 Lily-Like Floating Plants
Full Sun | Spring-Fall
1-2.5 Gallon Pot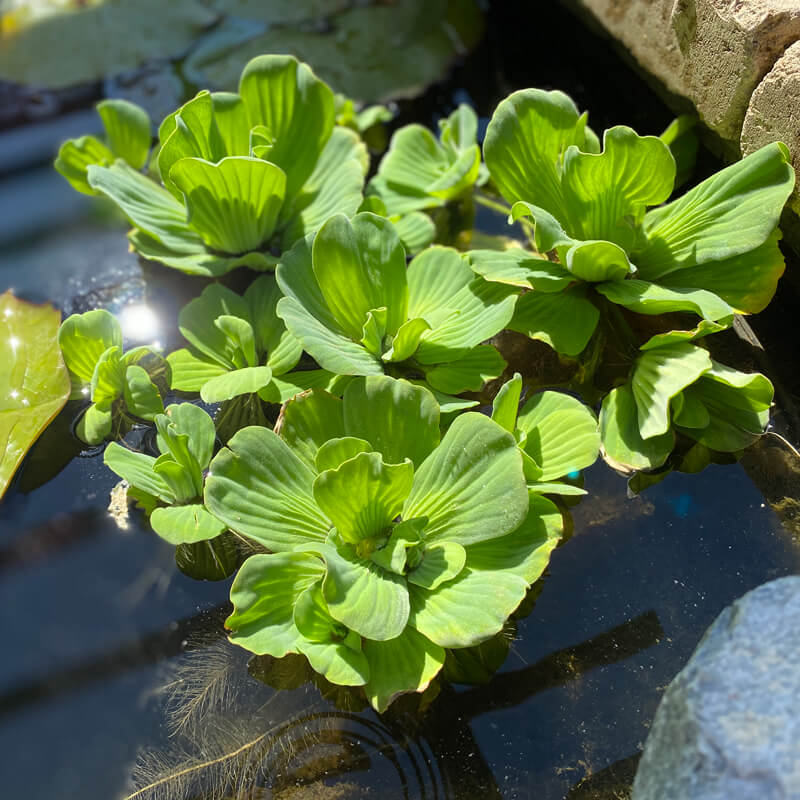 Water Lettuce
Part/Full Sun | Spring-Fall Blooms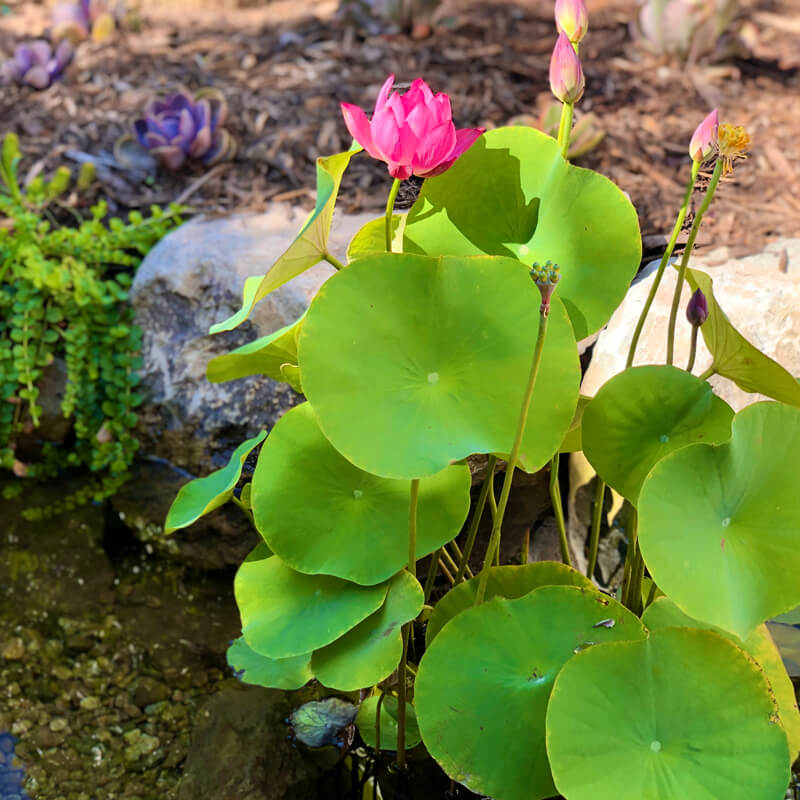 Lotus
Full Sun | SPRING-SUMMER Blooms
Water Lilies: HARDY LILIES
2.5 GALLON POTS
Aflame (aka Escarboucle) – bright red
Barbara Dobbins – large yellow with peachy outer petals
Black Princess – very dark red
Chromatella – classic yellow with marbled leaves
Cliff Tiffany – new yellow, like Texas Dawn with red/brown leaves
Gregg's Orange Beauty – Glowing orangy bloom, new leaves red
Hermine – small to medium white
Lemon Meringue – very double yellow w/ speckled eaves, nice!
Mangkala Ubol – large double peach
Meteor (aka Rembrandt) – red
Miss Siam – Hottest dark pink, new leaves reddish
Pink Sparkle – stellate pink, good bloomer on sm-med plant
Prakisad – Salmon bloom like Colorado but more intense color bloom and leaf! Very free flowering (New from Thailand)
Pygmy Red – dwarf pink/red
Starbright – white with a pinkish cast, nice mottled leaves
Texas Dawn – large yellow, mottled leaves
Violicious – amethyst violet hardy x tropical hybrid (hardy purple)
Walter Pagels – small creamy white
Wanvisa – variegated orangy-pink bloom, finely striated & speckled with yellow.
White Hot – pink w/ glowing white center, very mottled leaves
Water Lilies: TROPICAL
2.5 GALLON POTS
Assorted Day Blooming Tropical Waterlilies – named varieties, our choice
Charles Thomas – large light blue
Dauben – very light blue.
Islamorada – purple with white mottling on petals; unique
Lindsey Woods – purple with black bud
Maroon & Pink – nice dark bicolor with contrasting black buds
Panama Pacific – strong purple
Royal Purple – purple
Shirley Bryne – Pink
Night Blooming Tropical Lily
Lily-Like Aquatic Submerged
1 GALLON POTS
Aponogeton distachyus (water hawthorne) Z6
Hydrocleys nymphoides (water poppy) Z7
Nymphoides indica (giant water snowflake) Z9
Nymphoides peltata (floating heart) Z6
Lotus – Call for Pricing
Assorted Small / Medium in 3-5 Gallon Pots
Assorted Large in 13″ Pots 
Marginal Shallow Water Bog Plants
1 GALLON POTS
Iris Louisiana 'Acadian Miss' – white Z5
Iris La. 'Colorific' – white/pink & magenta/purple bicolor Z4
Iris 'Enfant Prodige' Vigorous blue-violet, extra blooms Z4
Iris 'Tsukiyono' (Moonlit Field) Light lavender, yellow signal, purple halo w eyelashes. Nice, vigorous, tall. Chartreuse leaves in spring
Iris versicolor 'Mountain Brook' – blue Z4
Iris virginica 'Contraband Girl' – light blue Z5
Acorus calamus 'Variegata'(variegated sweet flag)
Acorus gramineus 'Ogon'
Acrostichum danaeifolium (Florida leather fern) Z9
Asclepias curassavica (Mexican butterfly plant) Z8
Canna 'Australia Compact' – Z8 dwarf form of Australia, red waxy red leaves. About 18", great foliage accent, does not bloom!
Canna 'Bengal Tiger' (Pretoria) –orange Z8
Canna Longwood 'Endeavor' – red Z8 limited
Carex nigra (black flowering sedge) Z5
Colocasia esculenta 'Elepaio' (variegated taro) Z9
Cotula coronopifolia (brass buttons) Z7 California native
Crinum 'Hannibal's Dwarf' Z8 pink flowers
Cuphea ignea (firecracker/cigar plant) Z10
Cyperus alternifolius (umbrella palm) Z7
Cyperus giganteus (giant papyrus) Z8
Echinodorus barthii (red melon swordplant) Z7
Hedychium coronarium (butterfly ginger) Z7 white summer/fall
Hibiscus coccineus (scarlet rosemallow) a little short but strong
Hippuris ssp. (feathery mare's tail) Z6
Hippuris vulgaris. (mare's tail) Z6
Hout. cordata 'Chameleon' (var. heart leaf) (moist to 1" deep)
Hydrocotyle bonariensis (giant pennywort) Z6
Hydrocotyle verticillata (water pennywort) Z6
Hymenocallis lirosome (spider lily) Z8
Juncus 'Blue Dart' (rush) Z5 Short (24"), pretty blue!
Juncus effusus 'Spiralis' (corkscrew rush) Z4
Juncus inflexus 'Afro' Z4
Juncus patens (blue rush) Z4
Juncus patens 'Elk Blue' (Elk Blue rush) Z4
Leucojum aestivum (snowflake bells) Z5
Lindernia grandiflora (blue moneywort) Z7
Lobelia cardinalis (red cardinalflower) Z7
Lobelia 'Queen Victoria' cardinalflower
Lysmachia nummilaria (creeping Jenny) Z5
Lysmachia nummilaria 'Aurea' (golden creeping Jenny) Z5
Mentha aquatica (aquatic mint) Z5
Mimulus guttatus (yellow monkeyflower) Z4 likes streambeds!
Mimulus ringens (lavender musk) Z3
Myosotis scirpoides (blue forget-me-not) Z4 likes streambeds!
Myriophyllum aquaticum (parrot feather) Z6
Myriophyllum species (dwarf red stem parrot feather) Z6
Nasturtium officinale (watercress) Z4
Oenanthe javanica (water celery) Z5
Oenanthe javanica 'Flamingo' (variegated water celery) Z5
Oenanthe species (dwarf water celery) Z5
Phragmites australis aurea (golden reed) Z6
Physostegia virginiana (obedient plant) Z6 pink blooms
Pontederia cordata (pickerel rush), shorter strain Z3
Ranunculus flammula (mini spearwort) Z5
Ruellia brittoniana 'Chi Chi' (pink bells)
Rumex sanguineus (bloody dock) Z5
Saururus cernuus (lizard's tail) Z4
Scirpus cernuus (fiber optics rush)
Scirpus 'Zebrinus' (zebra rush) Z5-6
Spilanthes oleracea (buzz buttons, toothache plant) Z10 Many conical yellow blooms are a taste sensation!. Moist soil only
Taxodium distachium (bald cypress) Z5
Tulbaghia violacea 'Variegata' (variegated society garlic) Z8
Typha latifolia (common cattail) Z5
Typha laxmannii (graceful cattail) Z3
Zantedeschia aethiopica (calla lily) Z7
Zantedeschia aethiopica 'Giant White' (calla lily) Z7
Zantedeschia aethiopica 'Green Goddess' (calla lily) Z7
Zantedeschia aethiopica 'Marshmallow' (speckled calla lily) Z7